The new requirements related to energy performance characteristics of buildings. New laws, imposed by an EU directive, related to the conditions that newly erected buildings must meet have been effective since 1st January 2014. The amended EPBD Directive puts emphasis on the use of minimum requirements related to energy performance characteristics of buildings or their parts subject to more extensive renovation works for which the cost of repair works on external partitions or technical systems exceeds 25% of its value (except for the piece of land on which it is located), or which cover more than 25% of the surface area of external partitions of a building (the requirements do not relate to buildings with the usable area above 1000 sq m). The EU Directive amends the technical conditions related to erected buildings in respect of their energy demand necessary for heating, ventilation and ensuring proper temperature of utility water in these buildings. The current energy demands boil down to meeting one of the energy performance criteria i.e. low energy demand from non-renewable sources or a low value of heat transmittance through external elements of a building, such as walls, roofs and construction woodwork. Since the beginning of 2014, the designs of newly erected buildings have had to meet both these criteria.
The amendment of the EU Directive results from the necessity to undertake actions in Europe aiming at saving energy consumed in buildings and adjusting energy performance improvements effectively to local climatic conditions, as well as ensuring their economic viability. Energy saving in the construction industry is associated; most of all, with heating costs, but quite a large problem noticed by authors of the new directive is energy consumption increase for purposes connected with cooling down buildings in Europe in the summer season, which is due to air conditioning systems becoming available on a wider scale. In this situation, a relevant direction of activities is passive cooling activities, protective techniques and woodwork with appropriate filling that improves the thermal characteristics of buildings in the summer period.
The EPBD UE Directive
imposes the obligation on all states of the European Community to reach the level that beyond 2020 all new erected buildings are buildings with also zero energy consumption. An important and key phrase is the concept "a building with almost zero energy consumption", since the directive does not set out conditions clearly expressed in figures that such buildings would have to meet – therefore working out the definition of "a building with near zero energy consumption" has been left to particular EU states (due to regional differences). Developing a policy and assumptions for particular types of buildings belongs to the member states. Their work in this respect shall be monitored and assessed by the European Commission. In view of that, changes to the Polish legal provisions are planned to be introduced in three stages: the first of them is just 1st January 2014, the next one is 1st January 2017, and the final stage in 1st January 2021.
Here it is worth looking over the criterion of demand of a building for non-renewable energy set out in adjustment provisions to the EU directive: maximum energy demand for a new single-family house shall be at 120 kWh/m² annually starting from 2014, 95 kWh/m2 annually from January 2017, and ultimately 70 kWh/m2 annually beyond 2020. In a several years' time calling a block consuming 70 kWh/m² "a building with near zero energy consumption" will be odd, but such low requirements are probably a bow to property developers. It is quite simple and sadly a common rule: most of the companies erecting buildings for sale mainly take care about the sale price of a building square metre, and not the buyer's pocket, who will ultimately pay energy bills for using their building. Already a company responsible for servicing of developers' residential construction investments in respect of selection, manufacturing, delivery and assembly of construction woodwork by asking an investor about the thermal standards of woodwork, they get a reply "optimally chosen for the sale of the structure". This issue does not relate to individual investors, who build houses for their own needs spending more (achieving better energy performance) expecting to obtain the return of investment during operation of the building or from a subsidy from the National Environmental Protection Fund. However, it is worth spending more on construction, but in a high energy performance standard: a house erected this way is not only cheaper in operation, but also retains a higher position on the real estate market among knowledgeable customers. We are hoping there will be more and more such people in the coming years.
Construction woodwork in designing and erecting energy-saving buildings
is one of the key areas: in an average residential building thermal insulation of windows and doors stands from 15 to 25% of heat loss, but in modern, heavily glazed buildings, this ratio might reach 60%. Therefore, it is very important to choose proper windows, gates and doors. The Polish adjustment provisions to the EU directive set out maximum heat transmittance values.
Therefore, for typical window woodwork thermal insulation ratio from the value U=1.3 W/m²K in year 2014 shall rise to U=0.9 W/m²K, in the final stage of introducing the EU directive.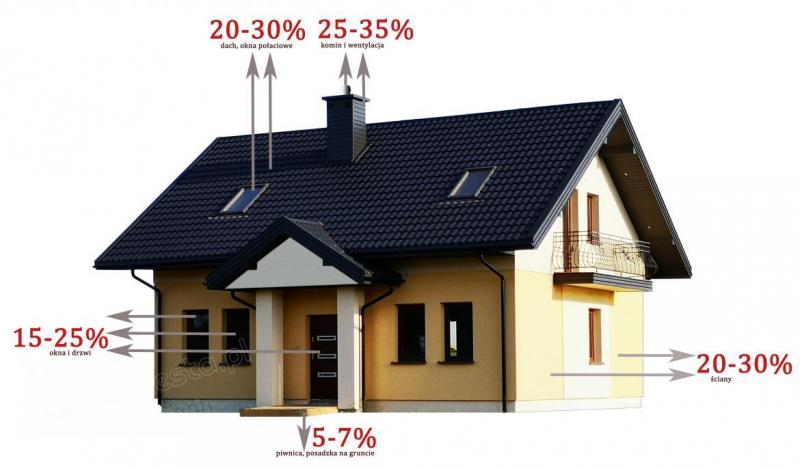 New requirements for windows and doors - challenges and a leap to newer technologies.
For the wooden joinery industry it means the necessity to adapt manufacturing to the state-of-the-art technologies in terms of thermal barriers; aerogel, proper design of door frame profiles, fillings with the best thermal insulation parameters. Stricter requirements for new houses bring new challenges for manufacturers of construction woodwork: better sealing, new fillings, hardware fittings, and most of all new assembly techniques. All structural elements of windows and doors and the manner of their installation have influence on the total U value. Glass is generally the largest surface of windows; therefore the quality of glass and the structure of sealed glass units have the largest importance in improving thermal insulation properties. Energy-saving windows are currently fitted as three pane units, i.e. multiple glazed planes comprising three glass panes separated with glass spacers. The structure of the glazing unit is carefully thought-out. Glass panes are joined together with such spaces as to ensure an optimum internal space, which is filled in with a noble gas - it is usually argon. Argon prevents heat transmittance much better than air. Apart from filling in internal window pane chambers with argon, a very important treatment improving glass insulating properties is the use of glass spacers to join it made from modern plastics or precious metals reducing heat transmittance. A very important means of obtaining good thermal properties of glazed windows and doors is application of glass with proper parameters to design a sealed glass unit. Therefore in three glass pane unit on the outside and inside low-emission glass is used.
The frames of windows and doors also contribute to a good heat transmittance value.
The important factors are: the design of door frame and leaf profiles; the number and arrangement of chambers, the thickness of thermal insulation spacers and the number and quality of gaskets.